The Pharmacy For You
Our expertly trained pharmacists and friendly staff pride themselves on making sure your pharmacy experience exceeds expectations.
Jones Drug Store has been a community favorite since 1871. By serving the community of Jackson, we pride ourselves on our quality of care and commitment to excellence. We believe the value of success comes from the impact we have on you. Our wide range of services are customized to meet your needs and our pharmacists are always happy to take the time to answer all of your questions. Visit us today and experience our commitment to you.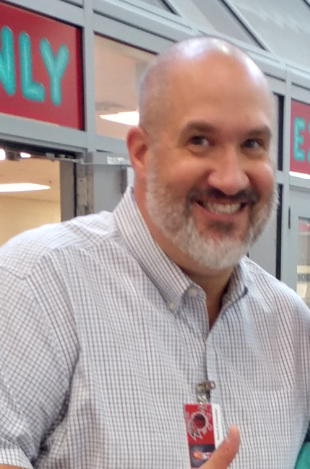 Brian Thompson, RPh, Owner
I am a proud 1989 graduate of Jackson High School and 1994 graduate of St Louis College of Pharmacy. There was never a doubt in my mind of where I wanted to live, work, and raise a family after graduation. Jackson and it's residents all hold a special place in my heart. I enjoy just about everything outdoors! Hunting and fishing with my kids are among my favorite things to do. I have coached them all in every sport they have ever played and am their #1 fan, but I'm more proud of what they have achieved academically than anything. I started my pharmacy career at SE Hospital inpatient pharmacy and worked there for 15 years before accepting a position here at Jones. I am currently a co-owner of Jones Drug Store, Twin City Pharmacy and Chaffee Drug Store with my business partner Bryan Kiefer. My favorite part of this job is the daily interactions I have with all my customers. I always strive to make our customers feel like family. We feel like it's our #1 job to make you as comfortable as possible when you are here. We earn your trust, not expect it. I truly believe that laughter is the best medicine I'll ever dispense, so expect to leave with a smile on your face! I'm rumored to be the most ruggedly handsome pharmacist in Cape County! If you are looking for a new pharmacy, give us a try. I believe we'll be the answer to all your healthcare needs.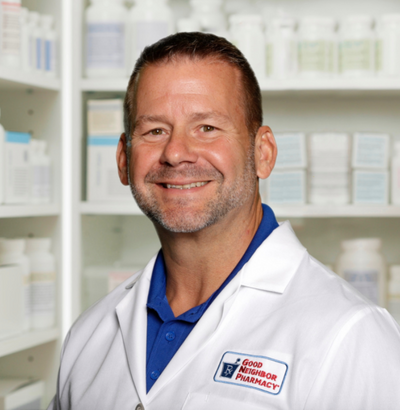 Bryan Kiefer, RPh, Owner
I'm Bryan Kiefer and I am a co-owner of Jones Drug Store. I graduated pharmacy school from UMKC in 1992. I started my pharmacy career at K-Mart in Cape Girardeau, then moved to Healing Arts for awhile before coming to work at Jones Drug Store where I've been ever since. I also split my time working in Marble Hill at our other store, Twin City Pharmacy. My favorite part of working at Jones is Fridays when I get to work with my hero Brian Thompson. I love all our customers and look forward to seeing them every day! If you are looking for a 100% locally owned pharmacy where our service sets us apart from all the other pharmacies in the area, look no further than Jones Drug Store!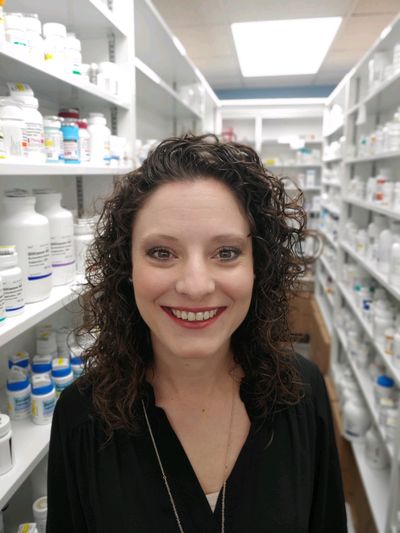 Denae Walter, Pharm D
I began my pharmacy career in 2002 when I started working for an independent pharmacy while attending St Louis College of Pharmacy. After completion of college in 2008, I worked as a pharmacist in Cape Girardeau until I joined Jones Drug Store in 2012. I truly enjoy working in my hometown assisting the Jackson community with their healthcare needs. At Jones, I am able to have face to face interactions with many familiar people from my youth along with meeting new patients. During my time off, I love spending time with my husband and two children. The kids keep me busy with outside activities, crafts, reading and watching movies! Aside from the kid's activities, I enjoy fishing, hunting, reading, volunteering for The Dream Factory of SEMO, and attending church with my family. I love having the opportunity to provide quality and cost effective pharmaceutical care to our wonderful customers!
Nick Legrand, Pharm D
Nick LeGrand, PharmD is from Cape Girardeau (don't worry, he didn't go to Central) but lives in Jackson now and graduated from Saxony Lutheran High School in 2010. He is now an alumnus of St. Louis College of Pharmacy, the best pharmacy school in Missouri. Nick enjoys hiking, camping, and fishing/hunting and will always be learning more about these activities. He and his wife are expecting their 1st child this fall!! Stay tuned for pictures!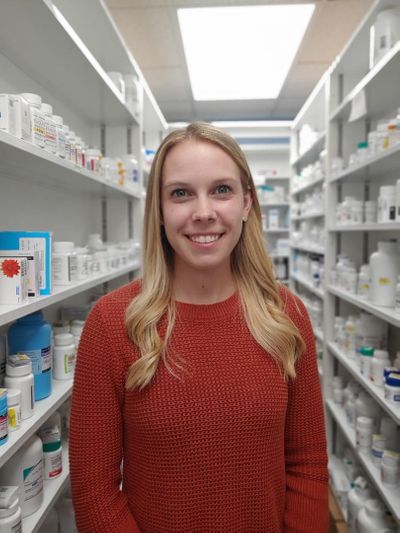 Kristy Roth, Pharm D
I started at Jones Drug Store in Jackson in 2014 as a pharmacy technician while attending pharmacy school in St Louis. I always wanted to be a pharmacist because I wanted to directly help people with their health and I love patient interaction. I immediately fell in love with the pharmacy and the patients I saw every day at Jones. I have been a pharmacist since May 2019. I share my week between Jones Drug Store and our sister store Chaffee Drug Store. Outside of the pharmacy I enjoy outdoor activities such as camping and singing karaoke with my husband and dog. I have a sister named Katie that everybody loves!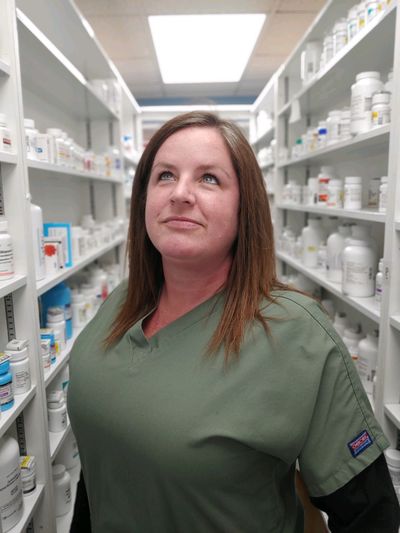 Alicia Tucker, Pharmacy Tech
My name is Alicia and I live in Cape with my husband Ray and our 4 sons and 3 cats. I enjoy peanut brittle and poetry, especially in one of our many parks in Southeast Missouri! I've been working at Jones Drug Store since I turned 18 and have loved every minute of it! I've seen a lot of changes in our pharmacy, but one thing stays constant....our customers are the best!! My favorite part of working at Jones Drug Store is the daily interaction with our customers and working alongside some of the best people in the business. At Jones, you are a part of our family, not just another number in line waiting for your prescription to be filled. Come see me today and I promise we'll take great care of all your healthcare needs!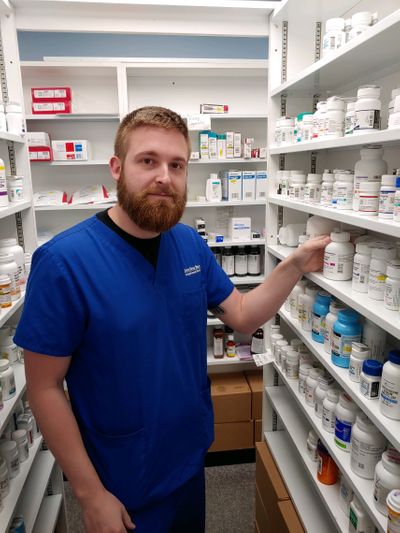 Kyle Rhymer, Pharmacy Tech
Growing up in Jackson, Kyle is an avid racing and Indianapolis Colts fan (sadly). Having lived the majority of his life in Jackson with his parents, he has been a Jones staple since 9 years after the turn of the century. When not at Jones, Kyle can be found at racetracks across Indiana, Alabama, Tennessee, and Florida and listening to old records at his best friend Ray's house. In 2015 Kyle formed "The Kyle Rhymer Band" which went on to great commercial success only in his dreams. Sorry ladies, Kyle is now engaged to his longtime girlfriend Jennifer and they are currently looking for houses to one day fill with 4 kids of their own!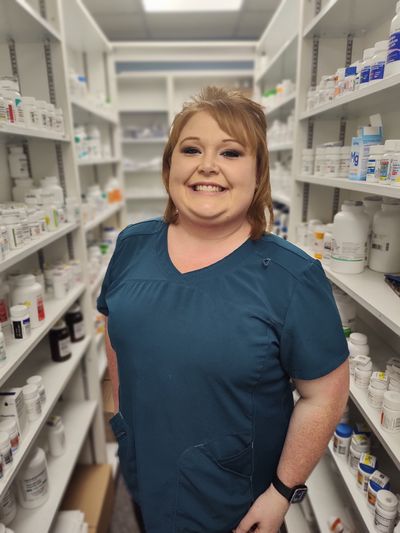 Casey Reiminger, Pharmacy Tech
Hi! I'm Casey and I live in Jackson with my sweet fur baby Layla. I began working as a pharmacy technician in October of 2008 after graduation from Jackson High School. I worked 13 years in the hospital pharmacy at Southeast Hospital and left there to fulfill my lifelong dream of working at Jones Drug Store with the best boss and ruggedly handsome Brian Thompson. When I'm not at work, I enjoy spending quality time with my family making peanut brittle, feeding my chickens at our farm, and relaxing at home in my favorite moose slippers with Layla. I also dabble in making dream catchers and love going to craft fairs to get ideas for making my next one. I look forward to helping you the next time you come into Jones Drug Store!!